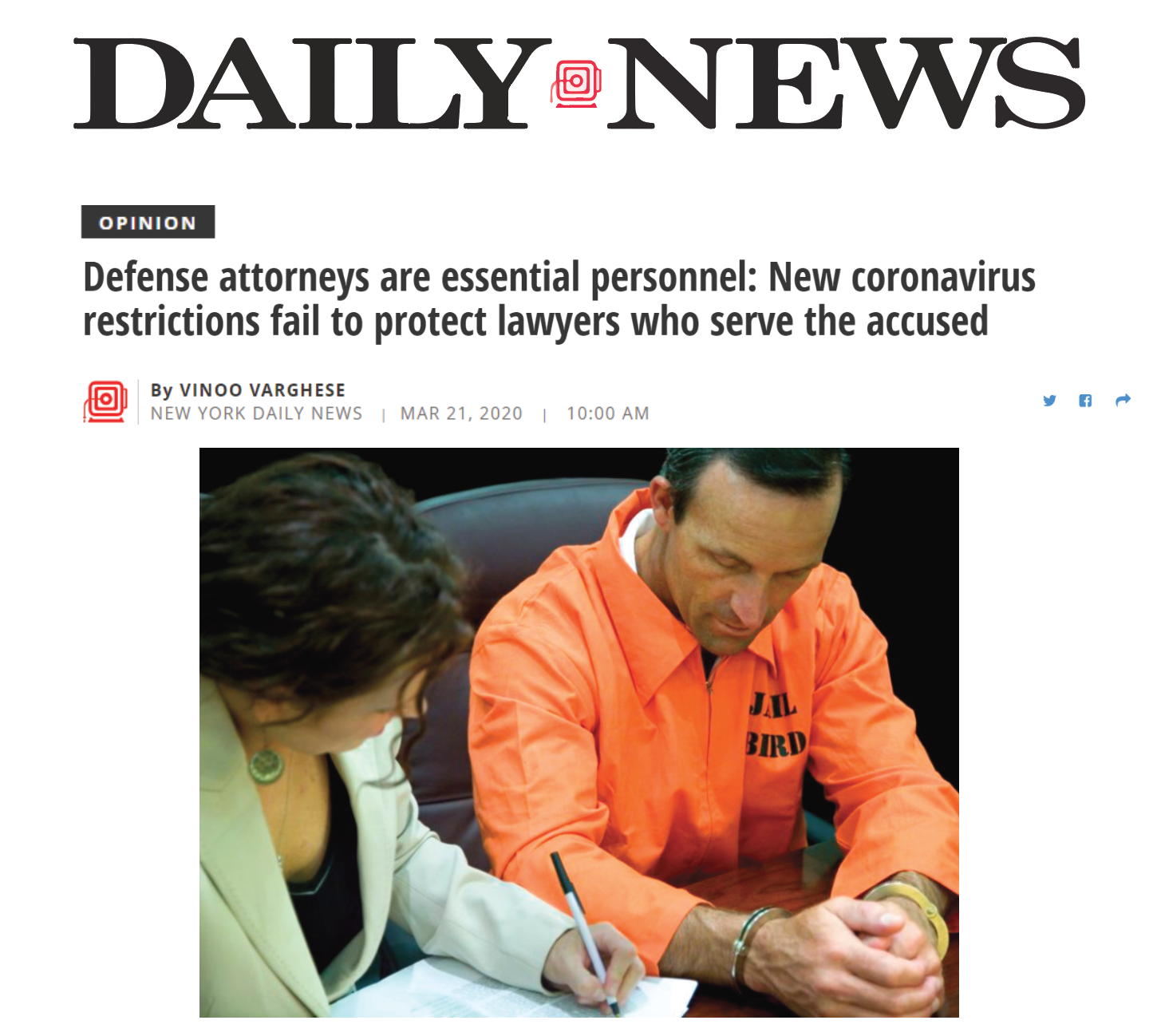 The Daily News Saturday published Vinoo's op-ed on why criminal defense attorneys are necessary despite Governor Cuomo's exclusion of them and all lawyers in his coronavirus shutter order.
Friday, through Executive Order 202.6, Gov. Cuomo ordered that any business not designated "essential" close its doors until further notice. Yet while designating law enforcement as "essential," Cuomo didn't designate criminal defense firms such as mine the same way. In fact, his executive order is devoid of the words "attorney" or "lawyer." By not designating criminal defense lawyers as "essential," the governor is gutting the constitutional right to an attorney, guaranteed in the Sixth Amendment for those facing criminal charges.
In response to COVID-19, employees at my firm were given the option of working from home, and those who have continued to work in our Wall Street office have practiced "social distancing." We still have limited but necessary face-to-face meetings with clients. Sometimes those facing prison need to meet with their lawyer in person — whether that's at a police precinct house or in a hearing room or a jail.
Our clients are among the most vulnerable in society as they face the full weight of the government against them. In addition, our team has to process, catalog and analyze gigabytes of evidence that the U.S. Attorneys and DAs give us in hard copy, on flash drives and CDs. The government isn't anywhere close to 100% online, so we can't be either.
The New York Times reported Friday that the U.S. Attorney here in Manhattan brought in 14 defendants wearing masks for arraignment this week. The article went on to note that Manhattan DA Cy Vance announced he was going to have prosecutors and investigators continue investigations during this pandemic — with some working from home.
State and federal prosecutors clearly haven't stopped working during this time, which means defense attorneys cannot either, nor can we afford to do so with hands tied behind our backs.
Also Friday, Chief Judge Janet DiFiore sent out a video message to attorneys statewide reaffirming the importance of courts. Yet Cuomo, an attorney and former prosecutor, didn't think to include law firms in his executive order.
After Cuomo made his announcement, I went and read his order multiple times; it includes a place where those wishing to be designated essential can make that request. I did so within minutes. We are still awaiting a response.
Though I had read the order multiple times looking for the words "attorney" or "lawyers," it had gone over my head that the state is designating liquor stores as "essential." Then multiple friends and colleagues began messaging me to suggest otherwise. Finally, I saw an announcement from the New York State Liquor Store Association asserting that liquor stores have indeed been deemed "essential" and can remain open for business. While I enjoy a drink as much as the next guy, I can't seem to find the right to drink alcohol in the Constitution.
Forget liquor stores. When the Governor decrees that cops and prosecutors can't make arrests, then I'll be the first to say that criminal defense attorneys are non-essential. Until then, you'd better believe we are.